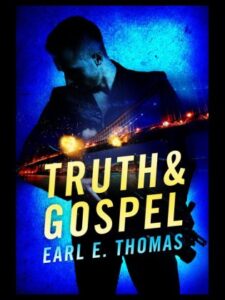 Download the Kindle version of Truth and Gospel, today (Sep. 23rd) for FREE.
Growing up in the mid-1980s on the rough streets of Inglewood, Truth learned the harsh realities of what kind of life was available to a young black man: gangs, drugs, and a career on the wrong side of the law.
Eventually it was time to try something new; moving to Houston to start his own illicit business and grow it into a powerhouse of money and power within the Texas drug trade. That is until his righthand man is jailed on a capital murder charge. Truth's loyalty to his people knows no bounds and he decides a daring courtroom raid is the only way to save Vincent 'Gospel' Bass, his partner in crime from the death penalty.
This starts off a nationwide manhunt for the pair, and their femme fatale sidekicks as they seek to evade state police, SWAT teams, and even F.B.I. agents. Slowly, as events turn out this isn't just about fugitives on the run, but Truth's way of making a political statement about how "the man" has always treated the Black man in America.