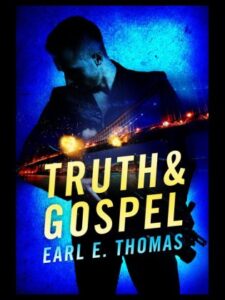 Truth and Gospel (for the Kindle)
– Also in Paperback –
Just out; a new crime thriller from debut author Earl. E. Thomas.
Growing up in the mid-1980s on the rough streets of Inglewood, Truth learned the harsh realities, life didn't offer many breaks to young black men. The most available options consisted of gangs, drugs, and a career on the wrong side of the law.
Eventually Truth wanted to try something new; something that might let him rise to the top of his own game. Moving to Houston proved a fruitful playground of crime. Soon Truth had his own illicit distribution network and grew it into a powerhouse in the Texas drug trade. With all the money and power he had ever dreamed he right at his finger tips, Truth thought his worst days were safely behind him, that is until his right-hand man is jailed on a capital murder charge.
Vincent 'Gospel' Bass is Truth's loyal partner in crime, his friend, his brother. Gospel's arrest shakes Truth and his organization to the core, and it leaves Truth with a difficult choice. To prove his loyalty, Truth will risk a daring courtroom raid. It's the only way to save Gospel from harsh Texas justice and the death penalty.
Their getaway triggers a nationwide manhunt. The pair, and their femme fatale sidekicks, take to the highways, trying to stay one step ahead of state police, SWAT teams, and even F.B.I. negotiators.